A Guide to Understanding the Nude in Art (Part 1 of 3)
My friends and family often ask me why so many artists paint (as they say) "naked people". Some think that the nude is only an excuse for pornography, while others just think that it's out-dated in the art world today. Most figurative artists (artists who work with the figure) will tell you something along the lines of "we don't see them as 'naked' we just see beauty". Though this may be true, it doesn't answer our question. As a classically trained artist myself, I have a theory on why people make art using the nude as a subject. I think the first step in understanding the nude in art, is to understand why people made them in the past, and why they continue to make them.
There are three basic categories of nudes, which are not necessarily mutually exclusive (sometimes they overlap):
Venus di Milo-
Greek sculpture
The Ideal Nude
: Originating with the Greeks, the ideal nude is just a concept really. the basis of which was most clearly explained by Plato. He stated that within all things there is a universal and divine "
form
" that defines it. For example: if you look at 100 trees, you'll find that each individual tree will look different, yet they are all similar enough to be categorized as trees. What is the sameness or underlying quality of the tree which makes it a tree? This thing, this sameness, Plato called
form
. Greek artists took this idea and sought the ideal
form
of the human body. they used shapes in the body, much like a musician would use musical notes to form a chord. The idea was to create a harmony through repetition and variation of certain visual elements of the body. Excellent examples of this are of course classical Greek and Roman sculpture, Leonardo da Vinci (who also could be mentioned in all of these categories for different works), Donatello, Rafael, and the Neo-classicists of the 19th century.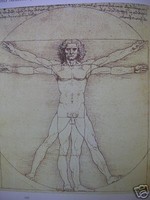 Vetruvian Man- Leonardo da Vinci
To be continued...
Part 2: The Observed Nude; The Expressive Nude