A Guide to Understanding the Nude in Art (Part 2 of 3)
Author information: joellescottgallery

(Richard T. Scot2t)
The Observed Nude: Originating in the Fayum portraits of ancient Greece in a technique of painting called Encaustic, which uses wax as a medium for pigment instead of oil or water. the main purpose of this was to capture the individual's personality and particular appearance. Great examples of this can be found in the paintings of Rembrandt, John Singer Sargent, and ancient Roman portrait busts.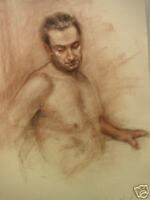 Portrait of Kristof- Richard T Scott
Study of Torso -Michelangelo



The Expressive Nude: This form is intended to do just what the name implies. The nude is used here as the main vehicle for the artist's expression, usually with emotive, or in the case of the renaissance, devotional purposes. Great examples would be the work of Michelangelo (who could be classified under ideal nude as well) and most of the artists of the modern period: Rodin, Picasso, Matisse, Kathe Kollwitz, Edvard Munch, and Paul Gauguin etc...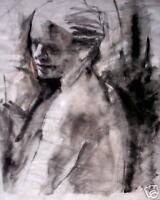 A Study in Memoree- Richard T Scott
To be continued....
Part 3: The Most Recurring Subject